Press Release
Click your heels and step out in style with 6 of Dorothy's High Glitter nail lacquers. This dazzling Ruby Slipper display, which holds 2 of each shade, will absolutely get oohs & ahz in your salon.
Product Alert February 11, 2002 Wizard of Ooh Ahz Glitter Nail Lacquer is available from China Glaze, a division of Worldwide Cosmetics, located in N. Hollywood, CA, as a "China Glaze Specialty Collection." The shades - The Ten Man, Good Witch?, Cowardly Lyin', Ruby Pumps, Dorothy Who? and C-C-Courage - are presented in 0.41 fl. oz. glass bottles.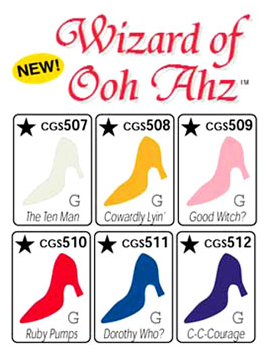 Notes
All items (6)
Community content is available under
CC-BY-SA
unless otherwise noted.